The cotton trail start with the farmers. We work with a small village Far East of the Gambia, in Wuli district. It is a pretty little village and the farmers have known the skill of cotton farming for generations. Cotton is a good cash crop in The Gambia. The challenge is; if you dont have a buyer, why produce? You can not eat cotton and having unsold cotton does not help your livelihood.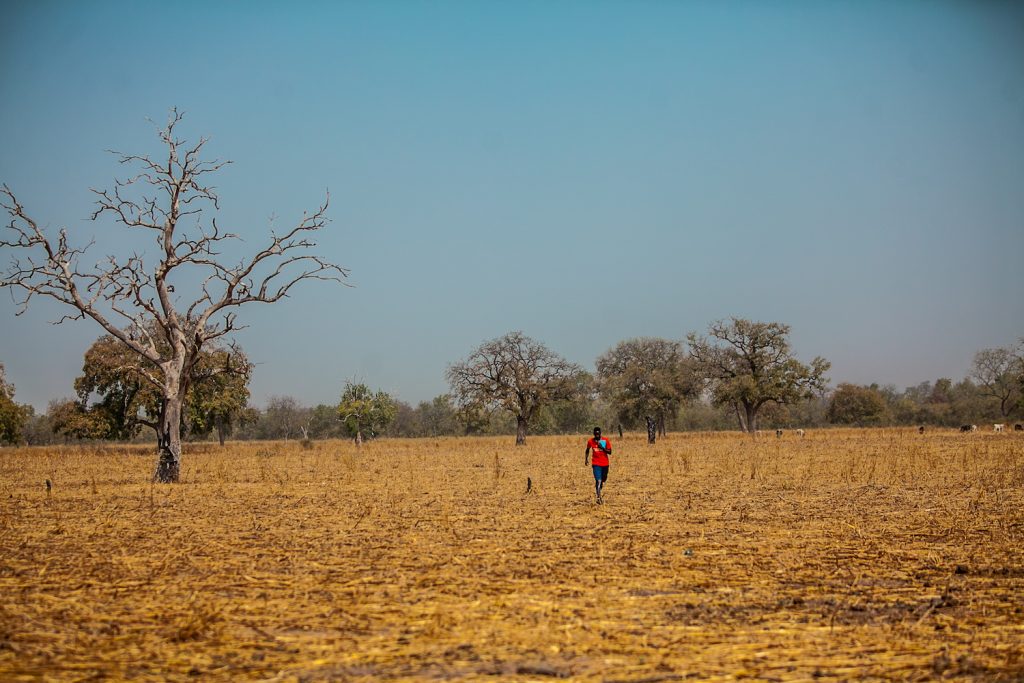 The village we work with, they know we will buy the cotton after the harvest. The cotton crop has more value than f ex vegetables. In this part of the world, without refrigeration and cool storage, it is very short lived. The cotton seed is being put in ground around the time when the first rain of the green season starts. The village are depended on the rain, as it is the rainy season that source naturally the watering of the cotton.
Our coordinator for the Cotton Farmers is Kebba from WASDA (Wuli and Sande Development agency) based in Basse. They have been involved in so many agriculture project in the Upper River region. Their knowledge and engagement is priceless. Kebba is the man who introduced us to our cotton village.
We called our cotton brand, The Gambia Cotton Trail. You can travel the length of The Gambia, stop along the route where you meet important local people that are involved in our cotton, and the chain of turning it in to a beautiful hand-woven fabric.
The ladies that spin our cotton is from Njau. Our spinners. When we first started, we put the words out "who know how to spin cotton". Women Initiative Gambia, is set up and run by activist Isatou. This is a group of women who work together on everything from turning waste into products, having their own savings – micro banking, creating soap, shea butter and you name it. Of course, they also knew how to spin cotton! Hence they became our spinner. Our cotton is spun by hand – so a lot of love and care in every fiber! It is always a delight to stop by for a visit!
We have a couple of weaver´s hub closer to the coast. One is in Brikama, where annu is in charge and using the traditional looms. From them, we get the beautiful traditional narrow strips of woven fabric. We do both the narrow local style as well as a wider width. The fabric Annu and the team are weaving is the more tighter kind. Learn more here in our product section.
The second hub of weavers are located at Footsteps Eco Lodge, under leadership of Osman. Njanki and Rochi are both using the European style of loom, and producing a softer and wider fabric. It is a delight to see them in work, and meter by meter turning the cotton yarn into material…
Musa is our master tie & dyer. We test a lot natural dyes on our cotton. Because we will only use natural dye on it. The fabric looks beautiful as natural white, but the kola-nut orange and indigo blue are stunning as well! Musa is also a true star on creating pattern as well!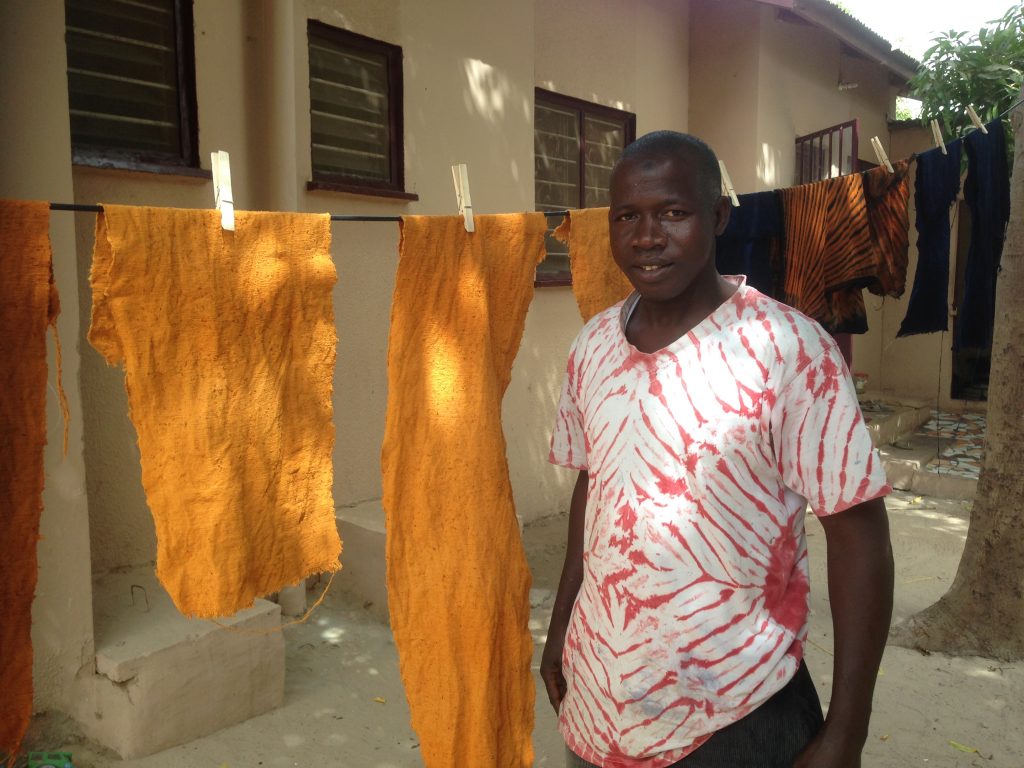 We sell responsible souvenirs at Footsteps, and other outlets in The Gambia. To create the products, we use our resident tailor, Lamin. These are sample products and only made with limited edition. In The Gambia we also sell at some markets, f ex The Good Market. Another facility we work with is Facil Clothing. This is a group of ten women producing quality products, under leadership of Ramatoullie. Most of the products we make in Gambia are bags and interior design.
Our latest addition to the family is our Cotton Trail Artist Group. This is a project going on for 2020, where we work with a group of young talented artists, under leadership of Njogu Touray, with Bjørg Thorhallsdottir visited in January. The group of ten are available for assignments, art work on the cotton as well. Read more about the Cotton Trail Art here.
But all of these people, industries had to be connected by someone…
The initiative takers – we just had an idea – and decided to go for it. For some time we wanted to create something that is made in The Gambia, and by that creating opportunities and jobs throughout the country. When we learned that there are still a few farmers that know the skill of cultivating cotton, we jumped in the car and drove to Basse (well almost!). After some research and with advice and help from Kebba (WASDU), we found what we were looking for! You can read more about the story behind it here. 
Daouda Niang and Linda Veråsdal met first time in The Gambia ,November 2006. They both studied MSc Responsible Tourism Management at Greenwich University (now Leeds Beckett) together, and it was at a destination management course in The Gambia they first met. Daouda being native Gambian, Linda being Norwegian connects perfectly the local and international perspective. 14 years since the first meeting, Daouda is today the General Manager at Gambia Tourism & Hospitality Institute and Linda is the Founder and Director behind Ethical Travel Portal and spend about half the year in The Gambia at Footsteps Eco Lodge, owned by her partner.